Polish Tatra Sheepdog Breeder's Directory
I am in the process of updating the Directory, so if you are a breeder please contact me.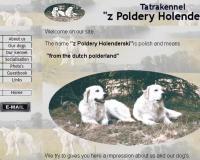 Site Title:
Z Poldery Holenderski
Description:
Kennel of Polish Tatra Sheepdogs located in Holland. Offers history of the kennel,dog's stories and pictures.
Site is in Dutch, English and German.
Breed:
Polish Tatra Sheepdog