Polish Tatra Sheepdog Breeder's Directory
I am in the process of updating the Directory, so if you are a breeder please contact me.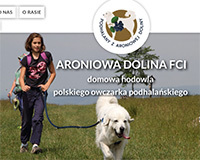 Site Title:
Aroniowa Dolina FCI
Description:
Small kennel located in Warsaw Poland
Breed:
Polish Tatra Sheepdog
Info:
This kennel has puppies right now ( March 2019). The puppies will be ready for adoption in May 2019.